Paul Ritter: Friday Night Dinner star dies at 54
He also starred in Sky drama Chernobyl, played Eldred Worple in Harry Potter and the Half-Blood Prince, and was in James Bond film Quantum of Solace.
His other TV credits included Vera, Belgravia, Cold Feet and No Offence.
His agent said on Tuesday: "It is with great sadness we can confirm that Paul Ritter passed away last night."
They said he died peacefully at home with his wife Polly and sons Frank and Noah by his side.
The statement added that he was "an exceptionally talented actor playing an enormous variety of roles on stage and screen with extraordinary skill", describing him as "fiercely intelligent, kind and very funny."
"We will miss him greatly," it said.
Friday Night Dinner writer Robert Popper tweeted his tribute, saying: "Devastated at this terribly sad news. Paul was a lovely, wonderful human being. Kind, funny, super caring and the greatest actor I ever worked with x"
The sitcom also starred Tamsin Grieg, Simon Bird, Tom Rosenthal and Mark Heap. Ritter played Martin, who was loosely based on Popper's father, who apparently often walked around the house with his shirt off.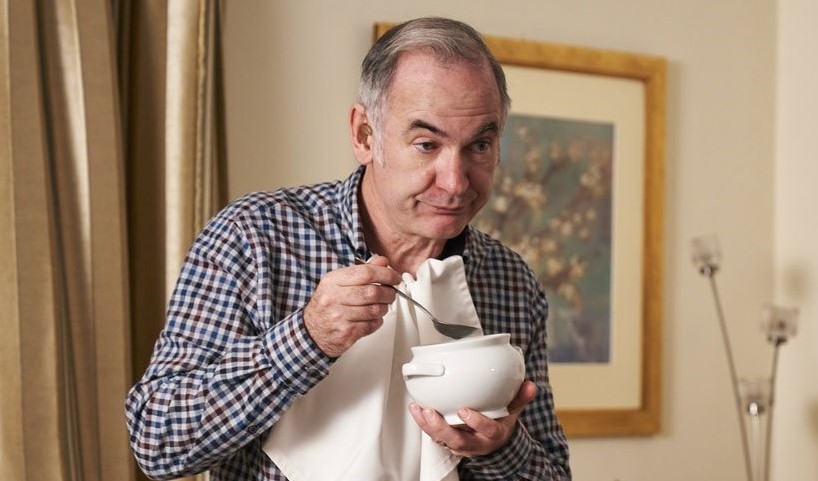 Channel 4
Martin Goodman's best phrases
(...the ones we can include without asterisks)
👋"Hello bambinos"

🐿️"Lovely bit of squirrel"

👀"Are you trying to be a moron?"
Stephen Mangan, who had known Ritter since they were students, co-starred with him in Alan Ayckbourn's The Norman Conquests in the West End and on Broadway. Mangan said he had "so much talent and it shone from him even as a teenager".
Years and Years and Being Human star Russell Tovey said he still remembered learning a lesson on stage from Ritter.
Friday Night Dinner started in 2011 and was nominated for the best sitcom award at the Baftas the following year.
The show focused on the British Jewish Goodman family, whose sons returned home each Friday night for a meal, which usually involved eating "crimble crumble" for dessert, and ended in some kind of disarray after the appearance of their unusual neighbour Jim, played by Heap.
Martin would regularly joke about the meal's main course being "a lovely bit of squirrel".
Ritter, from Kent, told the New Zealand Herald in 2014 he based some aspects of Martin on his own father, saying: "Lots of the mannerisms come from my own dear old departed dad. He was a very funny guy as well."
The series became such a hit that Ritter said he was stopped in the street by teenagers and parents alike, who all wanted to talk to him about Martin. There have been three attempts at a US remake, including one with Tony Shalhoub as the father figure.
In the 2019 drama Chernobyl, which was produced by HBO and Sky UK, Ritter played Anatoly Dyatlov, the deputy chief engineer at the Chernobyl Nuclear Power Plant.
The show, which also starred Jared Harris, Stellan Skarsgård and Emily Watson, won awards including two Golden Globes and 10 Emmy Awards.
Ritter was a familiar face elsewhere on stage and screen. He was nominated for an Olivier Award in the West End in 2006, and was up for a Tony Award on Broadway for The Norman Conquests.
In 2013, he played John Major in The Audience, which was The Crown creator Peter Morgan's play about the meetings between prime ministers and the Queen, played by Dame Helen Mirren.